Fish Market
TokyoTSUKIJI
★This is a local fish market in Tokyo, named TSUKIJI.
This time I introduce you to this place with some pictures.
Tsukiji was a typical seafood market in Tokyo but has now moved. However, this place still remains as Tsukiji Market for tourists. It is recommended for sightseeing as it is still a lively market!
Let's take a look at Tsukiji
Entrance


Currency exchange office
★A currency exchange office was established near this entrance!
Because a lot of foreign tourists are coming lately. But !!
The exchange rate is… Too bad.lol
$1=¥100円!? The rate for this day is ¥109 yen…I do not recommend that you exchange money here … only use here when you have trouble.
Because some shops may not be able to use a credit card!! If you'll come here, please prepare a lot of cash in advance.
Monzeki-street
The street facing the road through the entrance of Tsukiji is 'Monzeki-Street!
The Yellow shop is a new food shop!
There were mainly selling crustaceans, like a raw-oyster and crab!!
They used English skillfully to attract foreigners!
And the street was still a Seafood-Don shop and a braised-meat shop that seemed to have been from old times!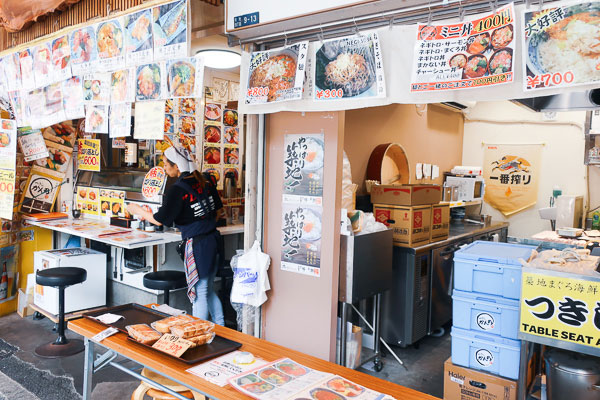 ▼This shop is also new! A Pasta shop!
I think if you come to Tsukiji you won't to eat pasta, but people working here would like to eat them… maybe
Namuyoshi-street
'Namiyoke' means 'Avoid the waves'.
In Japan, Shrines and temples are built near the sea to protect people who work in the market.
▼The Shrine name's 'Namiyoke-shrine', and the one built the street end!!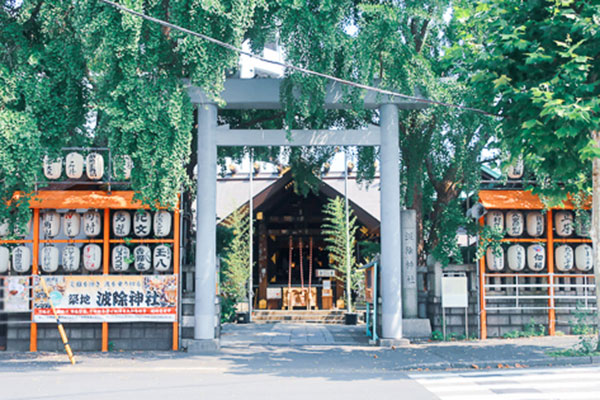 There is a favorite shop on this 'Namiyoke-street', so let me introduce 'em!
Tamagoyaki
(PlaneOmelet)
There street has some Omelet shop, about ¥100~120/one each shop. It's cheap!!
And then, My recommendation is here! "Tsukiji Yamanaga" Tamagoyaki shop!
Here's one is Only ¥100 !!
And you can choose 『HOT or COLD』、『SWEET or NOT SWEET』!!
The day was really hot outside, so I chose 『COLD & SWEET』one!!
Sweet and Tasty!!
And omelet is sold for souvenirs and it is around ¥800-1200/each!
There are different types for souvenirs, including plains, shrimps, and conger!!
Good for souvenirs ◎!
Bomb
(Big)

rice ball "Marutoyo"
This is a Bomb rice ball shop "Marutoyo", which is just around the corner of Namiyoke-Street!
Why it said 'Bomb' is as bomb as big!!
There are many rice ball that cost 200 yen or more, but the size of the rice ball is big and rich variety.
It seems that this size is loved by the locals working man!
Japanese General shop
Not only a food shop, but also a kitchen knife shop and a Japanese general shop are on this street!
Here is 'Ishi Oribako', Japanese general shop!
Postcards, Sensu(folding fans), chopsticks … are on sale, and what I picked up is…
It's like a fashionable pick called "Kanzashi-Gushi"! (Kanzashi is a tool used to tie hair.)
It was ¥400 with 100 in one bag!
Kitchen knife shop
A staff sharpened the kitchen knife at the store!
If it is a Japanese kitchen knife like an ordinary home, it seems that it will sharpen in the range of 1000 ~ 2000 yen each!
My husband is a SAMURAI, so I often come here to sharpen his sword.
There are more than 400shops
Tsukiji is not only that!
There are also "Tsukiji east-street", "Tsukiji center-street", "Tsukiji west-street" and even narrow streets in it!
There are more than 400 shops. It must be the largest market in Japan!
It's fun only walking here!!Let's look at the another street!
Oyster, UNI and raw Fish.
This is "Saito Suisan 2nd store" in 'Tsukiji center-street'!
I ate fresh Oyster here!!
Oysters vary in price depending on their size,and this is ¥600 raw oysters! Very big !!
Japanese oysters are characterized by being large! It is three to four times larger than what I ate in New York!
Japan's raw seafood is always cold so it's safe! There is no bad smell at all !!
You can also eat UNI(sea urchin) and raw-fish with lemon or soy-sauce on the table! Let's try 'em!!
The appearance of this shop is like this! As we will put a map of Tsukiji at the end, if you want to go, please look for it!
▼Saito SUisan 2nd store
Fish-paste fried
This is Fish-paste fried shop 'Tsukiji Kinofumi' !!
Have you evere eat Fish-paste fried ?? I really like it!! But…Foreigner may be said that it does not taste so much…lol
It is Tasty with soy sauce!!
You can also eat A5 rank beef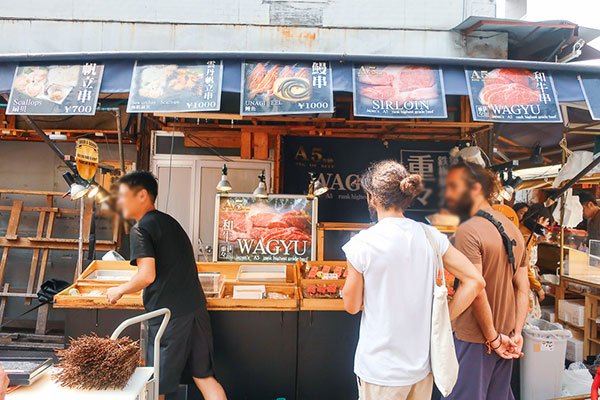 In this shop you can eat meat of the highest rank (A5)!
The meat is stabbed in a stick, staff will grill it when you ordered.
But… That's too high price… it's ¥2000~4000/one!
Japanese meat is rich in oil, tender, and feel the sweetness of the meat… quite delicious!
But I feel that's too high price… I want you to try Japanese meat… but here's too high……
There are shops in a small street
I think You'll find a small street when you walk in a large street, It's interesting to go there!
In this way, a seafood-don shop and a sushi counter suddenly appear! That's funny!! but not funny for price.lol
Seafood-don is ¥2000~3000/one, it's not cheap and not big Don. So I didn't coming here often ! (more cheaper the Ueno fish market.)
Tsukiji rest areas
Finally, I'll introduce the rest area and restroom of Tsukiji!
There is a building like a prefab on the left side of the Namiyoke-street. There are places to rest there, smoking areas and toilets!
If you are in trouble, stop by here!
There is also a currency exchange machine! It must be bad rate!
Get Free WiFi here
As I did not use it, so I don't know the strength of the wave… But use it if you have a trouble!
Free WiFi name『plat tsukiji』
Download the Tsukiji map
And the map above, you can download from the official website ◎!
If you want a map, please click here!
But you can enjoy Tsukiji without a map, and it'll no lost! Please walk you like!
This is Tsukiji official HP, various things of Tsukiji are written, please have a look!
Welcome to Tsukiji | The Tsukiji Outer Market – Official Website
Tsukiji Business hours
Tsukiji is different from ordinary shops because it has different business days and hours!
As it is a market, basically Wednesday and Sunday are closed!
And business hours are from 9 am to 2 pm in the afternoon!
I arrived this time past 13 o'clock, so there were a lot of places to close the store!
around Tsukiji


Access Map
Finally, please look how to get to the Tsukiji market and map around Tsukiji!
Ginza is close when coming to Tsukiji, so you can enjoy it more if you stop by Ginza!
Ginza is Japan's highest grade land, and there're world's high brand shops around the red line street.
It is a street like Fifth Avenue in New York!
How to get to


The Tsukiji market
See the dotted line on Map, and The same color circle as the line !!
★Toei Oedo Line
Tsukijishijo Station
2min. walk
★Tokyo Metro Hibiya Line
Tsukiji Station
2min. walk
★Toei Asakusa Line / ★Tokyo Metro Hibiya Line
Higashi-ginza Station
7min. walk
★ JR Line
Yurakucho Station
15min. walk
The nearest stations are Tokyo Metro Hibiya Line "Tsukiji Station" and Toei Oedo Line "Tsukiji Market Station", and it takes about 2 minutes on foot from each station!
However, it is about a 7-minute walk from Toei Subway Asakusa Line "Higashi Ginza" and Tokyo Metro Hibiya Line "Higashi Ginza", so it is recommended to walk from "Higashi Ginza Station"!
Along the way there is a 'Kaburoza', which is only a few years passed from built, so it's beautiful and impressive!
Let's enjoy in Ginza!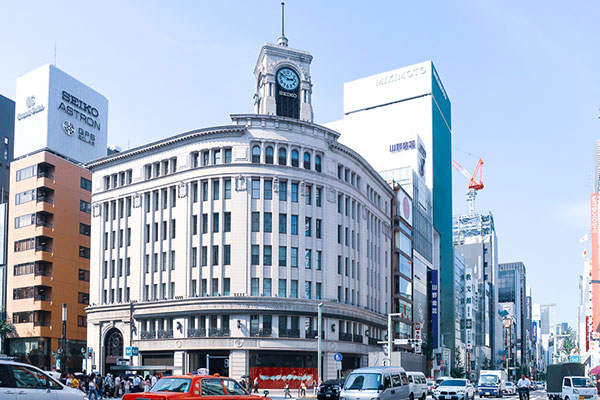 About 10 minutes on foot from Tsukiji to the middle of Ginza!
So please visit Ginza if you come to Tsukiji!
The building of the clock tower at this 4-chome intersection, this area is said to be a highest land price in Japan!
And this street becomes a Carfree zone on weekends!(Red line road)
Aside from this red line street, there are high-brand stores, department stores, four-storey Apple Ginza stores, and a Nakamuraya bakery …
You should be enjoy here just walking!
Hibiya Park is on the top left of the map, It is a nise park, and the light blue part that is pond of the Imperial Palace outside… It is a pleasant and big park with a lawn!!
It's good to spend with some food and drink!!
I love this place!!
Let's enjoy


Tsukiji & Ginza !
It's fun to go to Tsukiji sometimes!
Tsukiji is a place where you can eat fresh raw seafood, and feel like Japan, so I hope you enjoy there!
If you some question, Push under the buttom and leave your comment !!
Comment box on under the article!!
Enjoy in Japan!!