This is a story of the dinner after the local tour of the last article.
I wanted to eat on this day …
That is
'Mugata'
At a local restaurant in Bangkok city,
So Well here is a Question !!
Q, What kind of food is "Moogata"??
 ① Skewers of Frog
 ② BBQ
 ③ Fried eggs and chicken
・
・
・
Are you joining ?? Lol
Ready?
I say the correct answer, is it okay?
A, ②BBQ
Put your hand up if you're correct !! (Good job~!!)
I ate the Thai style BBQ 'Mugata' on this day!!
However, this 'Mugata' is not just a BBQ!
It seems boil Vegetable around the BBQ!!!?
That's funny, isn't it??
It's not a trip if I eat like this!!
Check it out!!
I ate 'Mugata' at
"Heng Heng Heng"
Well, we went to eat is…
a shop called "Heng Heng Heng" which is located diagonally in front of the hotel
This shop seems to have a good reputation, but please have a look.
THE  L O C A L !! lol (The left side shop with strip tent)
Appearance
It looks like this.
Perhaps I did not enter if it's the first time in Thailand, but…
I can do it for the second time! Lol
(I'm sorry for my father-in-law, my mother-in-law! I wanted to go no matter where! Lol)
Popular local restaurants
As rumored, this store was about 10 minutes to wait!
I told the stuff "4 people!" And sat down outside chair and waited!
Mysterious pan shape
The staff was to bring our table charcoal and pan as soon as we guided inside the store.
It looks like a 'Jingisukan-pod' !! ( It's a Japanise food)
The Genghiskan' also grilled vegetables around the center part, but this 'Mugata' is…
Boil the vegetables in the around part!!
Grilled meat and seafood in the center round part, the (meat&seafood) juice flows down the around the part, so around part soup be cooked more delicious!!
It seems to be a two-stage delicious system! ! ! (genius!)
2types of BBQ both 300B
I have made a mistake as a blogger …
I forgot to take the menu!!
However, the menu of the BBQ was only two!
I did not know well, so I asked for the set above, but this is probably the standard menu.
It was 300B with a set of meat, seafood, vegetables and thin rice noodle!
It can share this with other people!
We shared it by 4people, but if you were hungry you should just ask for two sets(=2per1set is just)!
(Staff said "It's enough  4by1set!!" but…It becomes a meat battle!! lol)
I ordered Fried shrimp wonton(with Chili sauce!!)
It was tasty!! love it!!
Staff cook it
I didn't know how to cook it but the staff started to cook it as usual!
Here are the ingredients of meat and seafood. It looks likely to break the stomach… but …
Stir ingredients
The staff who starts to stir this! And…
Draw oil
Stuff started to oil to the pan, but the oil was stuck to it! Lol
I guessed ingredients will be stuck away too~!
Set ingredients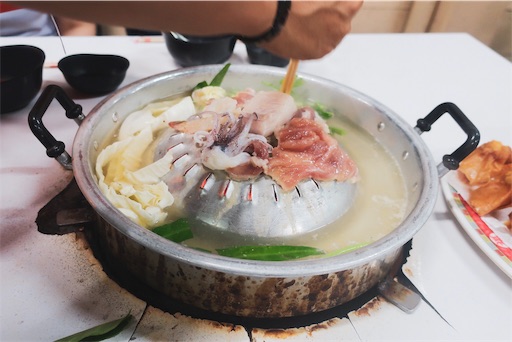 Then, meat and seafood are Lined up on the center part, and vegetables in the around the part.
Mugata Completion
Finally, put egg sap into the soup and complete it!! It's like a Refreshing BBQ!
The taste of Mugata Very Delicious
Eat grilled meat and seafood with hot sauce, this hot sauce is delicious! 
The soup was delicious too, and it's more delicious to put the sauce there!
Thailand is hot even at night, BBQ was hot too… I ate it while getting sweaty! Lol
Local people eating around seem to have fun …
I enjoyed the local taste and atmosphere!
It could be Ramen end of the BBQ
I didn't know it but… It could be Ramen and of the BBQ!!
Our parents saw what the next table did it! but…
both were overwhelmed by the local atmosphere, so their voice volume was minimal (lol), it was after leaving the shop that I knew that fact.
I wanted to Ramen so much~!!
It would be great if put ramen in that soup!
Total Bill
480B

($14.75)
The detail of 480B($15) is …
・BBQ 1set 300B ($9.75)
・Fried shrimp wonton 150B ($4)
・Ice  15B ($0.5)
・Coke 1L 15B ($0.5)

※Rate May 2019 $1=30.75THB
One set of grilled meat and shrimp wontons is not quite cheap but The price of ice and drinks is unusual! Lol
Maybe they got it wrong with the price of cola, cans …?
I think that it was cheap here, as there were a lot of about 1000B ($32) with 4 people in another restaurant in Thailand.
How to get to the
"Heng Heng Heng"
Here's how to get to 'Heng Heng Heng'
Roughly like this
①At first go to a 'Saphan Taksin Station'
②Walk(10min) or Tuk-Tuk(5min)
① Go to a 'Saphan Taksin Station'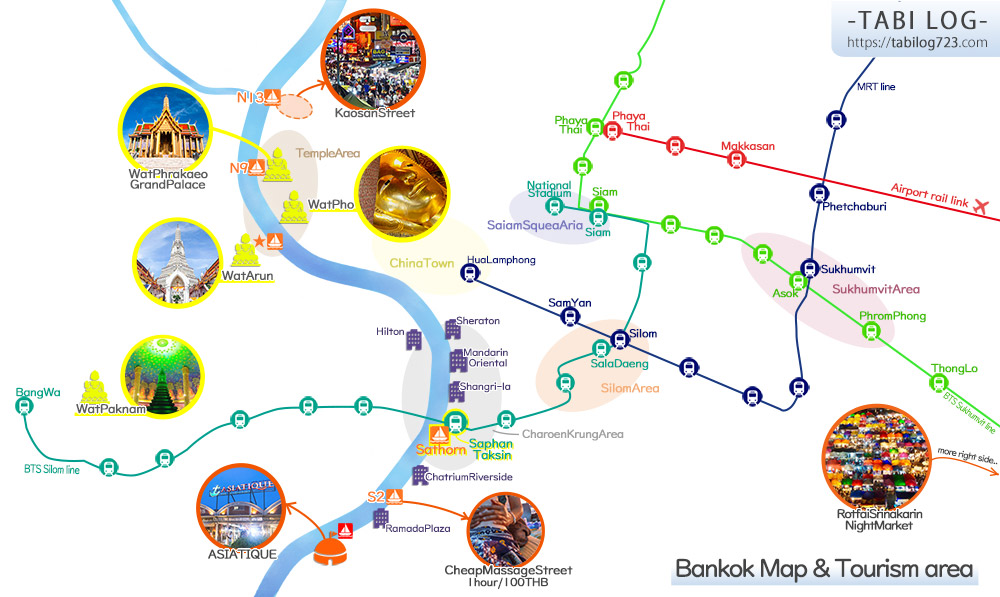 ※Click on the map to enlarge! Please save and use locally! (Please note that we can not take responsibility even if there are mistakes or changes in the contents …)
※If you want to use it for commercial use, please be sure to put a link on this page
It is 'Saphan Taksin Station' that is surrounded by yellow in the lower middle part!
At first aim here!
②Walk of  TukTuk from Saphan Taksin station
It's a bit far from the station, but it's straight on the road!
If you are lost, it may be better to show a map with a tuk-tuk! (Or it may be easier to understand if you say Chatrium Riverside Hotel)
It is in front of the Chatrium Riverside Hotel
The landmark is the Chatrium Riverside Hotel! It is near the intersection just after leaving the hotel!
You can see this when you get out of the hotel, this is a red and white striped tent shop on the left!
Heng Heng Heng Business hour
Business hour is 17:00~23:00 !!
There were a lot of comments on "Waited" in the review, but maybe there are times when you wait! I also went around at 20:00 on Saturday and waited for about 10 minutes!
Do they speak English??
There is a staff who do English◎!
Also, the staff had a friendly aunt, and the quiet young man also grilled our vegetables, so everyone was good people!
Summary
There is much delicious local food in Thailand. I love them!
The seafood Chinese restaurant that was next to this restaurant is also prosperous and looks delicious!
When I come to Thailand next time, I want to go there!
If you are going to Thailand, Let's try Thai local food 'Mugata'!