If you  are going to Thailand for the first time,
Those who it's the second time, the third time …
Hello!
I went to Bangkok for the second time this year's May!
Japan is getting hot every year, but Bangkok is also much hotter than 2 years ago!
How often does the temperature rise? Is it hot all year round? When is it going to rain? Recommended tourist spots? Where is the hotel right? What should I bring with you? …etc!!
I'll tell you one!!
Let's go~!!
Thailand(Bangkok)


Basic information
Thailand is a direct flight from Japan at a distance of about 6 to 7 hours.
The official name of Thailand is "Kingdom of Thailand (Thailand)" and the capital is Bangkok.
The population is about 69 million people and about half of Japan!
It is the same Buddhist country like Japan, but it is said that there are about 30,000 Buddhist temples called "Wat (= temple)" and about 300,000 Buddhist priests all over Thailand with 95% of the population being Thai.
Therefore, there are many big temples in Bangkok, and there are many temples left as a world heritage site in Ayutthaya.
Many lifestyles and manners are closely related to Buddhism, and this "Buddhism country" is also the highlight of Thailand!
The Time Difference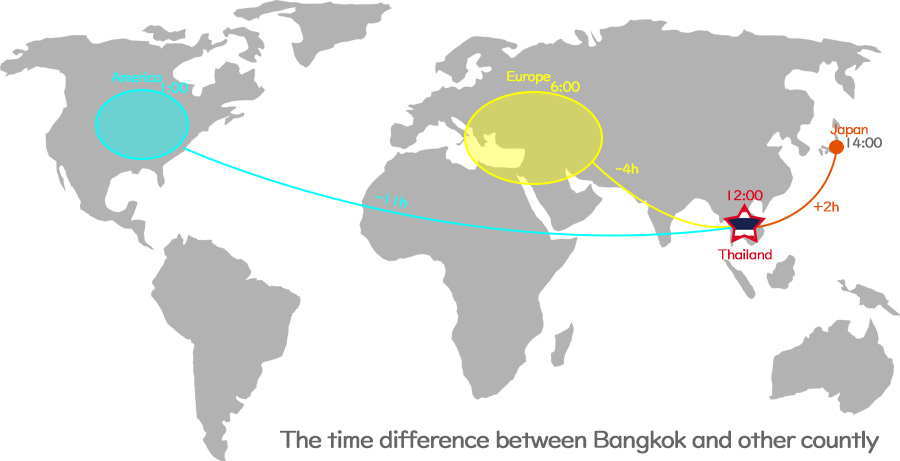 Look at the time difference!! (It's pretty roughly!)
There is not a lot of time difference from Japan, but you may be jet lag when you are from Europe and the United States!
Bangkok Best Season
Bangkok is summer all year round! However, it is divided into three seasons roughly.
・

Dry season

 from November to February
・

Hottest summer season

from March to May
・

Rainy season

 from June to October
The best season of the trip is the dry season from November to February, which is not too hot and not hardly rains!
Especially in the rainy season, there are several intense squalls a day during September and October.
I went to the Hottest summer season of May twice, but it was quite hot! The temperature rose to nearly 40 degrees. It feels so hard to walk outside when it's so hot …lol
Thailand's Prices
Thailand's prices are hard to say in a bite, but it depends greatly on things!
Like that!
Public transport
Train first ride 15B(=$0.5)
Public Boat 15~20B(=$0.5~0.75)
 Taxi
Meter system first ride 35B($1.25)
Negotiation taxi airport to city hotel 400~700B($13~22.75)
 Massage
1Hour 150~200B($5~6.5)
Drink
Coke or Water 15B($0.5)
Bottle beer 35B($1.25)
 Stall food
50~100B($1.75~3.25)
 Restaurant food
150~200B($5~6.5)
As you can see public transport and drinks are quite cheap! Beer can also be bought for the price of soft drinks in Japan.
However, prices seem to be gradually rising in Thailand, and taxis don't feel so cheap there, and it's almost the same as Japan or a little cheaper at restaurants! (I think that the price of the restaurant in Thailand is cheaper compared with Europe and the United States …)
In particular, the price of food was raised than it was two years ago.
Recommended


Tourist Spot in Bangkok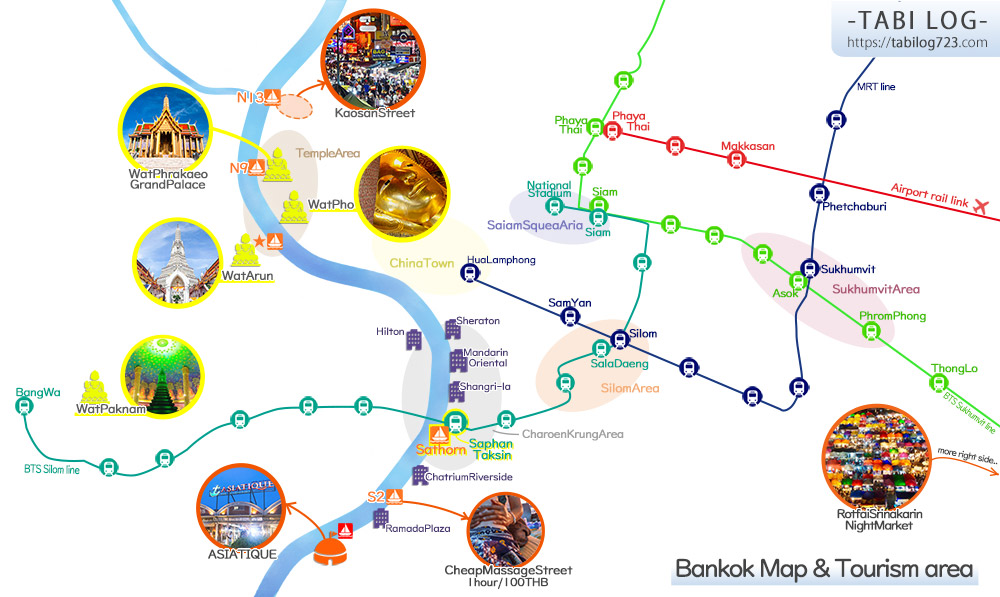 ※Click on the map to enlarge! Please save and use locally! (Please note that we can not take responsibility even if there are mistakes or changes in the contents …)
※If you want to use it for commercial use, please be sure to put a link on this page
First of all, please look at the map of Bangkok and what showed what there is in Bangkok!
If it is what is in this map, there are sightseeing spots within easy reach!
Tourist spot① Temple Area
Bangkok is a Buddhist country, so let's visit a famous temple!
There are also powerful temples of "Wat Arun", "Wat Pho" and "Wat Phra Kaeo & Royal Palace" in Bangkok, and these three are close, so I think it would be nice to go around together!
I moved by a public boat,  I was able to go for around $1.5 for the round trip only with the boat price!
Thai Travel Rep③ I went to WatArun & WatPho by myself !! How to get there! – TABI LOG
And recently, Thailand's hot topic Temple of the Emerald Buddha "Wat Pakunam" is not close to these three, but as far as it looks at the map, you can go by yourself. I think it is good to go!
Tourist Spot② ASIATIQUE
The hotspot in the night in Bangkok is 'ASIATIQUE'!
It was completed two years ago and there were a lot of people very much, but when I went there this year, It was more powerful and enjoyed it for the second time!
There are also food shops and stalls representing Thailand, and here you can see the DragQueenShow & MuayThai!
And there are quite a lot of souvenir shops, and there are also affordable Thai souvenirs!
We can do various things with one facility here!
If you go to Bangkok, you should go once! !
Thai Travel Rep⑦ I have seen a Drag Queen Show in Calypso Cabaret Bangkok! Photos and Videos here! – TABI LOG
Thai Travel Rep⑧ I went to ASIATIQUE !! Recommend Souvenir, Restaurant and HowToGetThere(Map), Here!! – TABI LOG
Tourist Spot③ RotfaiSrinakarin
'Rotfai Srinakarin Night Market', a photogenic view from the building, is also a nightspot that Bangkok can not miss!
Unfortunately, I was not able to go, but here is the range where it can go by train.
The night market is fun in Asia, and you can eat at a cheaper price than a restaurant, so let's go there!
Tourist Spot④ Riverside Cheap Massage Area
Bangkok is hot all year round and gets tired quickly, but it is better to get a  'Massage'!
There are many massage shops in Bangkok that you can find as soon as you walk around the city!
Even though it's cheap about 120B/1hour, but… I went to the Super Cheap massage shop for 100B/hour!! Moreover, the location is the best because it's along the river!
Please read the following article!
Thai Travel Rep⑧ I went to ASIATIQUE !! Recommend Souvenir, Restaurant and HowToGetThere(Map), Here!! – TABI LOG
Other Tourist Spot
Tourist attractions not on the above map, such as 'Mekong Market' 'Water Market'  'Ayutthaya Ruins' 'Elephant Riding' … It takes about an hour by car from Bangkok. (Meklong Market / Floating Market is in the south-west Bangkok, Ayutthaya remains in northern Bangkok)
So it is quite difficult to go through transportation!
The recommendation is to charter one wagon with a Guide and goes around as you like,
or to participate in a local tour with a Guide that you can travel around the tourist spot in one day!
I participated in this tour twice, It's wonderful content to enjoy in the second time and it is quite recommended!
The content of the following article is written↓
Thai Travel Rep⑤ MaeklongMarket, FloathingMarket, ElephantRiding, TheAyutthayaRuins..by Thai local tour!! – TABI LOG
Recommended Hotel Area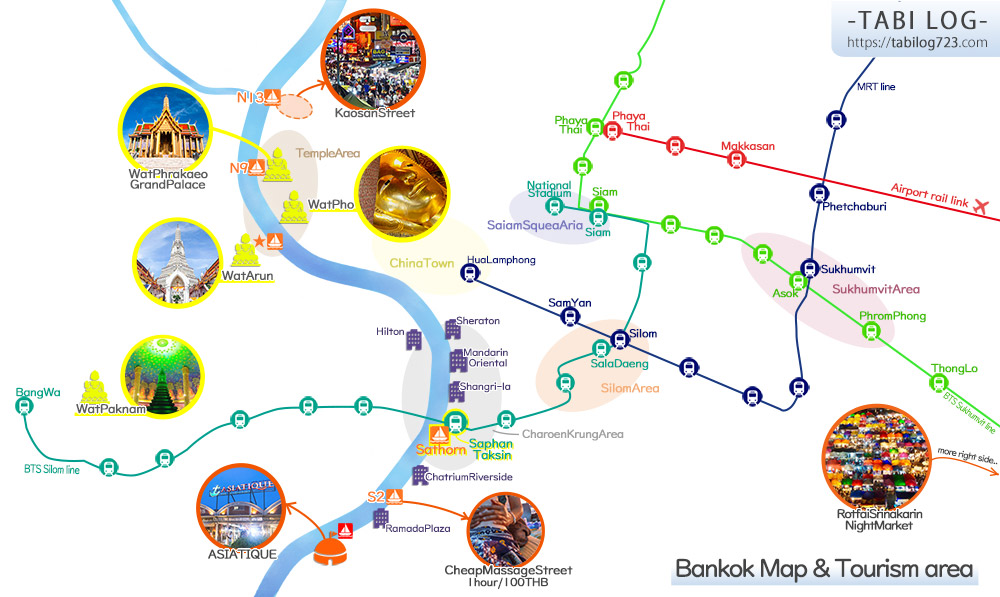 Please look at the map!
If it is the first time, it is wondering which hotel to book!
It is convenient when you travel around the station! And what I would like to recommend in Bangkok is the "Riverside Hotel"!
Recommended Area① Luxury riverside hotel
Speaking of Bangkok is 'Chao Phraya River', the surrounding area is so refreshing and it is really beautiful at night. (Sunset is also great ◎!)
It is a riverside hotel that you can enjoy it!
The super-luxurious hotel "Shangri-La Hotel," "Mandarin Oriental Hotel," "Sheraton Hotel," and "Hilton Hotel" are also displayed on the map, it's sure to be very wonderful!
Moreover, this riverside hotel is always accessible, as the hotel's courtesy boat to the Sathorn Pier is available! (The Shangri-La Hotel is right by 'Saphan Taksin Station (Sathorn Pier)', but the other hotels are a bit far!)
I stayed twice at Chatrium Hotel Riverside Bangkok
However, if this super-luxurious hotel is out of reach … still want to stay at a riverside hotel!  … 'Chatrium Hotel Riverside Bangkok' is recommended!
As mentioned above, this hotel is not "super luxury", but it is "luxury" enough, there is a beautiful garden and a swimming pool with a view more reasonable than the above hotel, a variety of breakfast is delicious and the hotel has friendly staff. is! (Hotel transfer boat available!)
It is a recommended hotel to stay for two times! (The above picture was taken from this hotel!)
Thai Travel Rep② Second time staying at Chatrium Hotel Riverside Bangkok. – TABI LOG
Recommendation Area② Around the station
It is recommended "around the station" without saying, but especially the place I want to recommend is around 'Saphan Tak Shin station (Sathorn dock)' which is convenient for boat movement!
In this area, you can also go to the temple area and Khaosan Road by boat, and it's also convenient for taking a train! There are many food shops (food stalls and restaurants) in the "Chang Krung area" around this station, and there are department stores, so you won't Inconvenience here!
The next recommend is around "Silom Station" and "Saracen Station"! There are super luxury hotels in this area, but there are so many hotels in Thailand, so you should be able to find good-priced hotels!
I'm sure I look for hotels around here ◎!
Need Travel Goods
Finally I would like to add travel goods that are indispensable in Thailand!
Thailand needs measures against hot heat all year round,
It has a different voltage, so it needs a transformer,
and it has a long flight, also needs preparation for a flight!!
There are many things that I need to go to Thai, so I would like to write one by one!
Conversion plug & transformer
The shape of the power outlet may be different in Japan and other countries! In that case, you need a "conversion plug"! However, Thailand is the same "A type" as Japan, or "BF type" "C type". Most seem to be able to use "A type", but there seems to be a hotel which can not be used rarely. It is safe to take it just in case!
"Transformers" may be required by things. Because the voltage is different because Japan is 100V and Thailand is 220V!
Recent portable chargers are made to correspond to the voltage of each country, so it seems to be safe to use them as they are! (iPhone was not a problem at all!)
If the adapter has a display such as "100-240V", it can be used as it is!
However, I would like to pay attention to the dryer and hair iron made in Japan. It is necessary to check if it is compatible, and if it is not compatible, you need to bring a transformer!
Drained Pocket Tissue 
After all, speaking of uneasy things overseas is a toilet! Thankfully, most of the toilets in Thailand are OK even if you use paper! The only type of toilet where water and ax are placed in the countryside or near a gas stand is not good for flushing paper!
Another thing I would like to be aware of is that Thai piping is thinner than in Japan, so it will get clogged with a large amount! When flowing, let's keep in mind a small number of things and paper!
And because the toilet outside may not have paper, it is very useful to have a portable tissue that can be drained! Because the toilet seat may be dirty, square tissue is a must-have item in the bag!
Pocket Wi-Fi 
If you are not used to traveling, the need is ★★☆, if you are used to traveling, you need to be ☆☆☆!
Because most hotels can use Wi-Fi! If you check the location of the place to go before you go out, you will not need much!
Neck pillow
About 6 to 7 hours from Japan to Thailand. Medium length. Japanese airplanes have pillows, but pillows with both neck and waist are better!
It is time to be able to endure if it is about 3 to 4 hours … but it is better to have more fatigue if there are more than that!
Laundry detergent
Do not do laundry on the trip! Some people may think, but in Thailand you do laundry! You will do it !! lol
In a scorching country, I change clothes every time I return to a hotel, so it is not enough to have T-shirts! (Towels too!)
So this should be taken …! Surely useful …!
T-shirt & LongBottoms 
Thailand is a country that is too hot, but it is not too cold inside the building! In that sense any clothes are fine, but the problem is the temple!
Most temples in Thailand are banned from putting out their feet and putting out their shoulders! When going to the temple, the lower body must be hidden under the knees, and the tops are fine if T-shirts ◎!
I recommend you to bring a T-shirt and buy Thai pants locally! Tie pants are not only cute, but they are also made of thin fabric, so it's cool when sweaty and it's perfect for Thailand! You can buy it for 100B($3.25)!
I love T-shirts for both men and women of Hanes, with good prices, good fabrics, and good shapes!
Seasickness Medicine
It better for taking drugs is Seasickness medicine!
In the case of Thailand, there is a boat movement, and the boat emits smoke and can be uncomfortable! People who are susceptible to seasickness should take it ◎!
Summary
It has been a little longer, but just reading this one might have understood the things about Thailand a bit!
Anyway, it's hot and enjoyable from morning to night, it's a wonderful and interesting country, Thailand!
Prepare properly and enjoy a lot !!!
If you want to Book Cheap.
In conclusion, Expedia is recommended, Because the number of airport companies and hotels they deal with is overwhelming.
Arrangements will be made by yourself, but you can arrange cheaper!
【Check】Flight+Hotel
【Check】Airport Transfer Service
【Check】Chatrium Hotel Riverside Bangkok