June is over and finally it has entered July!
I could not wait for July and I couldn't help it!
…Because
There are a lot of goldfish events! ! !
"Goldfish Wonderland" of Sumida Aquarium, "NAKED Fireworks Aquarium" of Shinagawa Axel Park, and "Edo Ward Special Produce Goldfish Festival" which we want to participate this year absolutely …
I didn't think there would be any more this year
Art Aquarium 2019 EDOEDO Nihonbashi! !
I was waiting too much and went on the first day. lol
I would like to start report!!
about


Art Aquarium

Speaking of a well-known summer goldfish event "Art Aquarium"!

This art aquarium has been held in various places in Japan since 2010, and it has been nine years this year. However, That 2019 is the last in the Tokyo Nihonbashi Mitsui Hall …

A record high of 10,000 goldfish will be exhibited this year!!
This year's Art Aquarium Theme


"Edo Goldfish Cool"
During the Edo period, goldfish took root as a popular culture in Nihonbashi, and the goldfish was admired to bring back the summer-cool culture to the present day.

A symbol of "art aquarium", 3 works in the popular huge fish bowl series, "Hana", "Ooku", "Super-Hana", and a solemn work of about 4 m square with a lotus motif, "Lotusrium" for the first time in the same venue There will be a large number of representative works that will be exhibited and will be collected up to the present.
The number of goldfish coloring works totals more than 10,000, and the number of works and the number of goldfish will be the largest ever.

Official Website: Aquarium | Tokyo Nihonbashi
Art Aquarium 2019
From here on, I would like to include some of the photos of the goldfish !
There are many beautiful goldfish. I also rasing goldfish but the size is completely different …! The force of each goldfish is amazing!
There are also rare varieties on display that you can not usually see in the aquarium shop.
Look at the beauty of the work as such an art aquarium and the beauty of the goldfish itself!
A summoner who picks you up at the entrance
Space of art aquarium
Big work "Ooku" of huge fish bowl series
One of the largest fish bowls with 1000 goldfish to swim
"Ceiling goldfish" where the goldfish seen from below is also beautiful
Carp behind the pattern
Cool marbles and goldfish
Shape of goldfish in the light
Seen from above
Water, bubbles and goldfish
Graceful tail fin
Goldfish Spear
Goldfish swaying in the water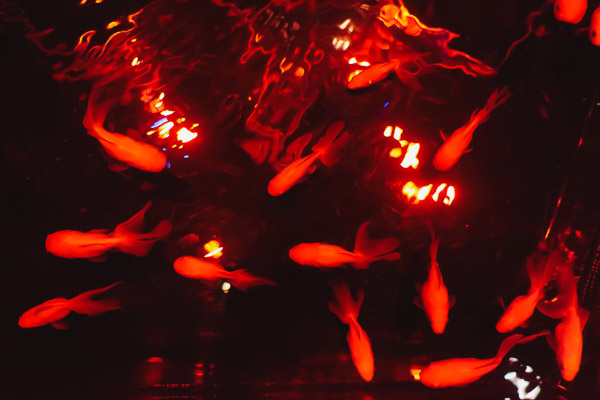 Daruma-goldfish
Ping Pong Pearl Shaking them body and go Ahead
Fringetail gold fishe
Ranchu with a puffy body
White, black, red Azuma-nishiki
Goldfish in the art aquarium are well managed
I went around noon on the first day, but there was also a goldfish that was getting sick. Even if goldfish are properly managed in the same tank, it depends on the individual whether it is fine or not. It is nervous or it is delicate individual to the water quality that becomes sick.
However, when I look at the condition of the large goldfish so badly, it makes me feel unbearable …
I tried to find out what happened to the management, but I was relieved that the official website was written like this.
Art aquariums often draw attention to their ideas and expressions, but they boast the knowledge and technology to make the ecosystems present and use the fish.
The fish that swim here are the maximum value given by humans as living as ornamental fish, such as a nutritious meal, high-performance water purification equipment, and care by the biological management staff that takes place all night long every night. They'er having a happy time.
Of course, when the exhibition is over, the goldfish return to the ponds and wholesale shops in the goldfish market where they were well.
Unusual Goldfish that are hard to come by hand are left at hand and carefully taken care of, and will go around each exhibition together. There were also many goldfish traveling with art aquariums from Hokkaido to Okinawa. In some cases, a child is born during the exhibition, and the child grows up and goes on the stage.
Cautions for shooting in the art aquarium
Shooting inside the venue is permitted, but shooting with a flash or tripod is prohibited. Videos are also forbidden! Eating, drinking and smoking inside the venue is also prohibited.
Art aquarium


Souvenirs Food Drinks

There is no mistake that you want to touch goldfish goods after enjoying beautiful goldfish!

There were such things as souvenirs and drinks
Souvenir
They have original goldfish goods! It is interesting just looking at various goods!
Sense(Japanese fans), towels, key chains, Japanese accessories … there was also a goldfish cider! (500 yen!! too much!lol)
And I bought a souvenir … lol
I'll not buy it …! I'll never buy it !! …I had thought but there are the goldfish goods in my hands.lol
It is an oil-handed handkerchief, gauze towel,meal mats! My favorite Tosa gold and Ping pong peral is embroidered them !! cute…!
Drink
And on the floor of the art aquarium, drinks such as art aquarium original jelly, soda and coffee were sold!
It's very cute, but the price is a bit high! I wanted to drink Tosakin's coffee but I didn't because when I drank it, Tosakin be gone..
Every Thursday is "Dassai(Sake) Night"!!
Food and drink are not allowed at the venue, but you can drink sake (sake, sparkling) at the "Dassai Bar" every Thursday only!
In addition, it seems that sake, beer, and soft drinks will be sold at the venue "Night Aquarium" from Sunday to Friday night!
It is also good to watch goldfish while drinking alcohol !
Art Aquarium 2019


Overview

Finally, it is an outline of "Art Aquarium 2019 EDOEDO Nihonbashi"! For other questions, please visit the official website!
Admission fee
Adult 1000 yen / child 600 yen
There seems to be no discount. Tickets can also be purchased at the venue, but it may be better to buy tickets in advance. It is expected that the weekend will be crowded.
Art aquarium ticket information
event date
July 5 (Fri) to September 23 (Mon), 2019
open time
Sun-Friday: 11: 00 ~ 22: 30 (final entry 22:30)
Sat, holiday eve 11: 00 ~ 23: 30 (final entry 23:00)
This art aquarium is working late at night! So you can also go to the end of work on weekdays ◎! It seems to be called "night aquarium" at night, but it does not seem to be separated by time and kicked out!
However, another ticket may be needed only on the day when there is an event for Friday / Saturday DJ coming! ※Please see the official website for details
Congestion forecast
This event is crowded every year, and it seems that waiting for one hour on weekends, especially during the summer holidays! If you want to avoid crowded, you go on weekdays, ar it is recommended to line up before the opening on weekends ◎!
Access
The nearest station is a 5-minute walk from JR Shin-Nihombashi Station, or a 3-minute walk from Tokyo Metro Ginza Line Mitsukoshi-mae Station.
Art Aquarium Official Website
Art Aquarium | Tokyo Nihonbashi
That's all
From small goldfish to large goldfish… I was happy to see all sorts of goldfish! I am very attracted by goldfish!
And when I look at my home's goldfish it's cute too! They say "Feed me!! " (There are a ping pong pearl and a Sakura nishiki!)
I would like to grow large my goldfish that I would like to make them super goldfish. Then They will take me to Ryugu Castle.hehe
Since goldfish events continue in July, I would like to do a repo if I go!
Let's have a great summer this year!
See you again !