【ASIATIQUE】Souvenir, Restaurant and How To Get (Map)
I went to Asiatique The Riverfront for the last day of Thailand!
Asiatique is Bangkok's most popular nightspot in Bangkok!!
I enjoyed it a lot when I came two years ago, but … It was leveling up!
cleaner and There are more attractions…
I would like to introduce the situation this time!
Night Play Facility in Bangkok
ASIATIQUE
ASIATIQUE is a Night-spot and also Night-Market in Bangkok!!
It was built on the side of the Chao Phraya River and was originally a refurbished harbor for diplomacy, but now,
there is everything like a food shop, a clothes shop, a general store, a souvenir shop, an attraction …! There are about 1,500 stores here!
I understand if I go,  There are a lot of shops where you can not go around everything!!
The really fun facility there is!!
Asiatique Map
Well, this huge night market is divided into several districts.
・Riverside atmosphere and restaurants line up
『

Waterfront district

』
・Latest fashion shops and fashionable restaurants gather
『

Factory district

』
・There is a food court and an outdoor event square
『

Town Square district

』
・Cheap souvenir shop line up
『

Chareonkrung District

』
However, if you enter it, you will not be aware of the district!
Because it is a quite large place and there are many shops, you can enjoy walking, and enjoy watching there!
I would like to introduce the places where I went and watched, the places where I ate, and the places where I played.
ASIATIQUE
Food Court & Restaurant
At first, Dinner!
There is a variety of food here, but what I want to eat is Thai food!
I went on a preliminary survey that I wanted to eat delicious Thai food!
I introduce here which became anxious!
Riverside Stalls
The Thai restaurant stall on the riverside was becoming very beautiful!
Last time, It didn't look good, and there weren't so many people…
so I thought that it wasn't possible to eat here because there were insects on the food … lol
But the place was very beautiful and wonderful!
There are lots of food stalls that look delicious, so I would like to introduce a little!!
Riverside Stalls Location
The location is a yellow square, just beside the river!
There are tables and chairs around it, so you can eat there!
passing through the gate
Passing through the stylish gate, cute stalls decorated with black and white striped tents and light bulbs were lined up! … completely different from last time! !
The mango shop that looks to the right is one mango baht 100B ($1.2)!
Thai food stalls
Look!!Pad Thai and ThaiFriedRice are prepared so much!
It is a system that burns (grill?) with an iron plate if you order it!
I wanted to eat here … Pad Thai……! !!
Satay stalls
It is a Satay Shop which will meet beer!
It is all 60B ($2). Oh, surprisingly it not cheap? Lol
Fried-food stalls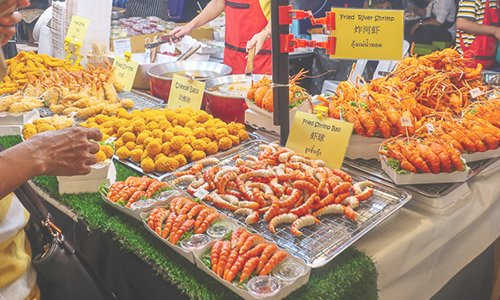 Mainly fryers with shrimp and cheese balls!
Dainty stalls
A Dainty shop that stood out here! It's a Snake … it's a Crocodile!?
Even if it is delicious, it can not eat 'em…lol
Thai Food Restaurant
'Kamlangsib'
Well, from here, please look at the shop 'Kamlangsib' that I went there!
"Kamlangsib" is the main restaurant of Kaomangai, but all Thai food was on the menu!
And it must taste… The shop here is delicious no matter which one I ate!!
Here is a recommended shop, so I will post photos and menus in detail!
Kamlangsib Location
The entire area marked 6 on the map is a food court, among which is 'Kamlangsib'. There is a small yellow spot, a shop just around the middle!
Kamlangsib Appearance
The appearance is a blue tent, and the shop mark is 3 chickens! I think it is easy to find if you go probably◎
Kamlangsib Menu
Although not all, I took some photos!
The price of food is roughly like this ↓
・A la carte Food
  120~150B 
($4~5)
・Kaomangai set
  129B 
($4.2)
・Shrimp curry
 239B
($7.8)
・(Crub)PhuPaton Curry
 429B
($14)
・Beer
  85B
($2.7)
・Softdrink
  30B
($1)
The staff will give you a list with numbers and names (in the Thai language), so just select the one you like from the menu and check the numbers! They will check properly when ordering!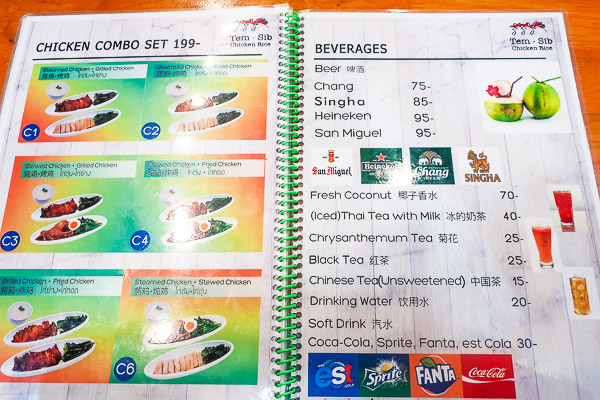 Kamlangsib's Food is all delicious
Since I had hungry, so We ordered two A la carte& one by one food.
This is what I asked for!
Pan-Fried Thin Noodles 169B($5.5)
Translated literally, it is "Thin noodles" but I love these flat noodles in Thailand!! Because noodles are larger than Pad Thai, it is delicious more than PadThai !! The seasoning is simple, but it tastes like Japanese!
Steamed Chicken Set 129B($4.2)
My husband ordered a Steamed Chicken Set! It's about $4.2 isn't cheap?! Surprisingly, the rice was not tasted so much … but the chicken was delicious and delicious!
Stir-fried shrimp
I forgot the name and price …This is a shrimp and mushrooms fried with garlic and soy sauce-based seasoning, and it was quite delicious!!
It is the taste that rice goes on! I think all the Japanese love one!
Stir-Fried Morning Glory (their service)
This is a Stir-Fried-Morning-Glory(Kushinsai) which they gave for me!
Apart from this, I had ordered like it, but both were delicious!! Garlic works well ◎!
Besides, Fried rice(by Thai rice) was yam too
I didn't take any photos … but the fried rice ordered by my mother-in-law was also delicious! Made with Thai rice, it is so delicious, and Asian fried rice has a bit different taste than Japanese and Chinese! I love Asian fried rice!
Bill. 6foods + 6drinks = 1176B($38)
We ate a lot of…!!lol
And I look at the bill well, the service charge cost 10% (107B=$3.5)!
Well, It was good because they gave me one service food.
The above-recommended rice restaurant 『Kamlangsib』!
Enjoy Mango Plate at
Mango Tango
Speaking of Asia, Mango!
Mango is cheap and delicious in Thailand, but some shops represent it in Asiatique!
There is a fashionable mango shop called "Mango Tango" in Thailand!
I did not eat last time, but this time I wanted parents-in-law to eat delicious mango, so I tried it!
MangoTango Location
The Mango Tango shop is located in the " Chareonkrung District 1″, on the star of the image, along the farthest wall!
Tables and mango goods are also arranged around the Mango Tango shop, so it's easy to find!
MangoTango Menu
Here is the menu of Mango Tango.
Each menu was about 105-220B($3.4-7.1)! Here it is fashionable!! The menu is cute!
MangoTango+ExtraStickyRice
We ordered the most deluxe plate "2-2 MangoTango + ExtraStickyRice"!
On this plate was half of the fresh mango, mango pudding, mango rais creme glutinous rice with coconut sauce!
Fresh mango is very sweet and delicious on this plate!!
The Sticky rice much with the coconut sauce surprisingly … but I was not good…lol
Mango Smoothie in the campaign
A mango smoothie has been added to those who bought over 390B for a limited time campaign! This was also fresh and delicious! I could drink a lot of mango smoothies in Thailand!!
Bill. 440B ($14.25)
I ordered the top two plates and added an extra mango smoothie for $14.25!
It is good to eat mango, ice and pudding at this price as it is so expensive to eat mango in Japan! (One Mango $10~20!)
ASIATIQUE
Unique Thai Show
It has become long article only with Food…! lol
I want to recommend in ASIATIQUE is this!
Thailand Drag QueenShow "Calypso Bangkok" 
If you come to Thailand you have to look at a DragQueenShow!
ASIQTIQUE has "Calypso Cabaret", which has performances twice a day!
I saw the show twice, but it was interesting! Because it was a special seat, that was a present from LadyBoy! lol
The appearance and Movies are UPed in the following article! Please take a look ★ (Details of places etc. are in the article!)
Thai Travel Rep⑦ I have seen a Drag Queen Show in Calypso Cabaret Bangkok! Photos and Videos here! 
"Muay Thai" in ASIATIQUE
One more thing about Thai shows is Muay Thai! This can also be seen in ASIATIQUE!!
I have not seen Muay Thai, but it is quite popular with ASIATIQUE's show!
It seems that there are performances from 20:00 every day except Monday!
It's the following ticket that is discounted at 900B($29) on the premium sheet!! so Check it out!!
Muay Thai Live Show in Bangkok
ASIATIQUE
Attractions
ASIATIQUE has some shows and some attractions! And the attraction was also better than two years ago!
A large Ferris wheel that is also a symbol of ASIATIQUE, or a merry-go-round, There were vehicles like a haunted house.
Attraction Location
The location of the attraction is a yellow square. If you go to that place you can see the Ferris wheel from anywhere, so I think you can go without losing it!
ASIATIQUE Symbol Ferris Wheel
This is a Ferris wheel! In the middle of the Ferris wheel put the Thai beer "Chang" and the elephant mark!
This Ferris wheel seems to go around 4 laps at 2 to 3 times the speed unlike Japan! lol
Cultural differences are here …! (Japanese one is a 1lap slow speed!)
Ferris wheel fee
・Adult 450B($14.5)
・Child(under 120cm) 250B($8)
・Senior(over60old) 250B($8)
A new attraction has been built
Formerly, the places where there were car attractions were torn down and turned into building ride attractions! (The pole on the left is the person in performance!)
It looks like a horror…? I thought but I didn't get it on so details are unknown! It's because this attraction is expensive, was around 600 baht ($19.5) …
And this merry go land was also new. It is sparkling and beautiful! and I don't know the price at all (but must be high)!
ASIATIQUE
Massage
Speaking of Thailand is Massage!
There were also some massage shops in ASIQTIQUE! And also the doctor fish shop!
If your body and feet get tired on a trip, let's have them heal by massage!
Massage Shop near the river
 There is a massage shop at the end of the Food stall on the riverside that I introduced at the beginning.
Massage Price
However, the massage shop here may be a little expensive.
・30min 200B($6.5)
・1hour 350B($11.25)
It is cheaper than Japan, though! lol
But the massage shop next to Doctor Fish seems a bit cheaper maybe…
Doctor Fish
There is also a doctor fish shop right in front of the reception of the Calypso Cabaret!
Doctor Fish Price
・Adult 20min 200B($6.5)
・Child 20min 150B($4.75)
It isn't cheap!! but The time is longer than Japan's.
And!
This is a massage shop you can see behind it!
Massage Shop next to Doctor Fish
Next to the doctor's fish shop was cheaper!
There is an impression that the massage shop next to this doctor fish was cheap for 150 B! I'm not sure …
If you want to get a massage, you may check out here as well as the riverside massage shop!
ASIATIQUE
Souvenirs Shop
ASIATIQUE has a lot of Souvenir shops!!
There are some Thai clothes shop(Thai pants, children's clothes, 100% silk scarf, etc.) to miscellaneous goods, Muay Thai gloves, and sweets(snuck), is here!
Souvenir shops here have cheap prices, and most shops don't rip-off, so it might be good to buy souvenirs here in Bangkok!
Souvenir Shop Location
There are many souvenir shops in the 'Factory District' and the 'Chareonkrung District'.
MEI JENG SIENG
Souvenir shop 『MEI JENG SIENG』 which is near Calypso Cabaret stairs is recommended if you buy snack souvenirs to company or family!!
The reason why it is recommended here is that Japanese snacks being sold cheaply!
Snack
Thai souvenir "Koala march (mango flavor)" pack of 7 packs of 100B($3.25)
Thai Souvenir Pocky 5Box 100B($3.25)
also selling Thai food souvenirs
They sold variously such as chili sauce and dried fruit!
Of course, there are other food souvenir shops, and there were places where the above-mentioned Japanese makers were set up, but they were out of stock or higher than here …so the best Souvenir shop is here I though!!
MEI JENG SIENG Location
On the side of the stair of Calypso Bangkok!
ASIATIQUE
Money Exchange
There was one exchange shop I saw, but there are about 4 exchange shops in ASIATIQUE.
I haven't seen rates, but I think there are not so bad here as Thai changers are not bad at all.
Money Exchange Location
There are Gates 1 to 3 of Asiatique on the roadside, but there is a gate 2 just on the map where "A" is written.
The money exchange was ahead of Gate 2 a little, so please look for it if you get in trouble!
How to get to the


ASIATIQUE
Finally, it is the way to Asiatique! Getting to Asiatique is not so difficult!!
There are two ways to go to ASIATIQUE,
Route① go to by TRAIN & BOAT
Route② go to by TUK-TUK or TAXI
I will explain easily with an illustration!
Route①
Take by Train + Boat
 Route① Train + Boat
1:   aim at 'Span Taksin Station' by Train
2:  Change to Boat 
3:   go to ASIATIQUE by Free Boat
1: aim at 'Span Taksin Station' by Train
Bangkok Route Map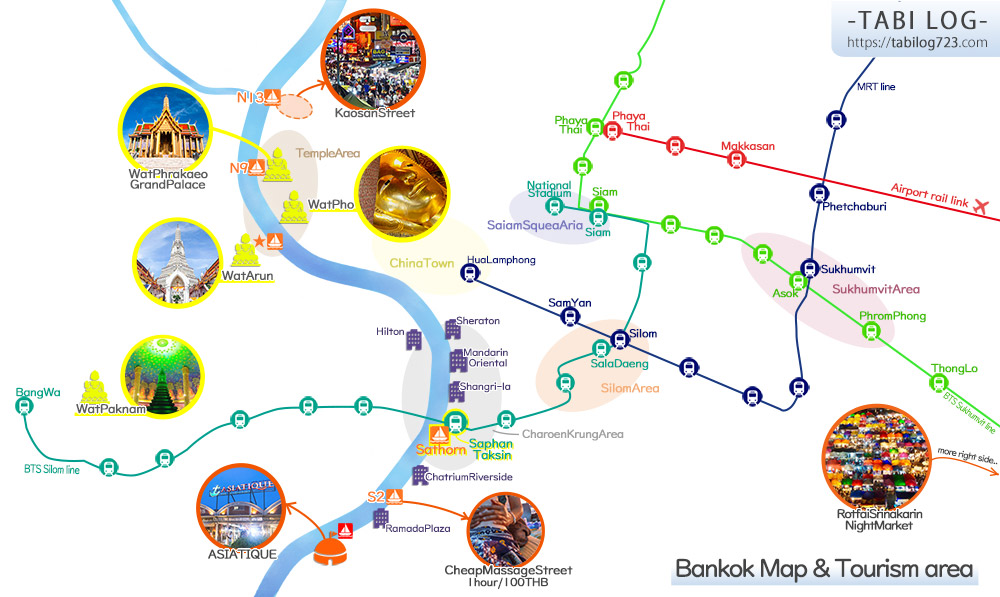 ※Click on the map to enlarge! Please save and use locally! (Please note that we can not take responsibility even if there are mistakes or changes in the contents …)
※If you want to use it for commercial use, please be sure to put a link on this page
At first, aim at 'Saphan Takshin Station'
'Saphan Taksin Station' is just on the side of Chao Phraya River and is also a 'Sathorn pier'!
At the bottom of the middle of the map is  'Saphan Taksin Station'.
2: Change to Boat
 Bangkok Boat Route Map
※Click on the map to enlarge! Please save and use locally! (Please note that we can not take responsibility even if there are mistakes or changes in the contents …)
※If you want to use it for commercial use, please be sure to put a link on this page
A short walk from Saphan Taksin Station Exit 2 is Sathorn Pier!
There is a free pick-up ship to Asiatique at the very end, so please wait for the boat there!
3: go to ASIATIQUE by Free Boat
There is a free pick-up boat from the dock, and it takes about 10 minutes to get to ASIATIQUE!
Please note that the Free boat business time is… from 16:00 to 23:00
Route② TUK-TUK or TAXI
There are also be going to ASIATIQUE by TUK-TUK or TAXI◎!
As I stayed at a hotel near 『SaphanTaksin station』, so I went to ASIATIQUE from there, by TUK-TUK It was 60 to 100Baht for two people! (When there were many people and return way was 150-200 baht …!)
However, it seems that it costs at least 200Baht or more if it is a taxi. (Because most  taxis negotiate system !)
Address
Charoenkrung Soi 72-76, Charoenkrung Road, Wat Phrayakrai District, Bangkok Laem, Bangkok 10120
Thai
ซอยเจริญกรุง 72-76 ถนนเจริญกรุง แขวงวัดพระยาไกร เขตบางคอแหลม กรุงเทพฯ 10120
ASIATIQUE Opening Hours
The business hours are from 16:00 to 24:00 but there seem to be many places where the shop opens from 17:00!
The ship seems to be crowded from around 17 o'clock, so it may be better to move so that it can be taken around 16:30-17:00!
Please note that the return-boat until 11:00 pm without notice.
Summary
What I saw, what I ate, what I played, what I bought in ASIATIQUE… I wrote it all was long, but…lol
How was it?!
As you can see, there are anythings in ASIATIQUE, so it's fun just to be there! Please visit here when you in Bangkok !!
Chack Thai Show
Book Calypso Cabaret
Book Muay Thai Live Show